Nesta Sexta-feira e Sábado (21 e 22/05 ), a Secretaria de Ritualística e Liturgia para o Ritual Emulação do GOSC, através do Secretário Ir. Willians Silva, promoveu o treinamento para Companheiros e Mestres, em formato de imersão ao Sistema Inglês de Maconaria "Craft Masonry". O evento contou com a presença do Serenissimo Grão Mestre do GOSC Ir:. Sergio Wallner com os Irmãos das Lojas que praticam o Emulation Ritual na Potência e convidados. O treinamento foi proferido pelo renomado
Irmão Elidinei Celso Micheletto Grande Superintendente e Alto Prelado do Distrito Brasil Sul-Leste, nº 56, do Grand College of the Priestly Orders of Holy Royal Arch Knight Templar Priests and Holy Wisdom – York England, UK; Maçom Operativo VIIº, Mestre Passado Vº da Região Brasil; Grande Prior da Província da América do Sul da Ye Comemorative Order of Saint Thomas of Acon; Oficial da Corte Osíris nº 145 da Grand Court of the Masonic Order of Athelstan in England, Wales and its Provinces Overseas.
Na oportunidade, o Ir:. Elidinei conheceu a sede do GOSC acompanhado do Secretário do Rito Irmão Willians e foi mostrado a Biblioteca da Potência pela Bibliotecária Luana Sontag. Na Sede do GOSC o mesmo foi recepcionado pelo Gerente Financeiro do GOSC Ir:. Bruno Francisco e pelo Secretário de Comunicação Ir:.Roberto Borba.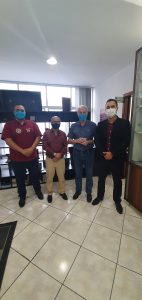 .
O evento foi encerrado no sábado com o tradicional Royal Festive Board "Jantar Festivo Inglês" onde os irmãos puderam na prática experimentar os costumes dos maçons ingleses e ampliar seus conhecimentos.